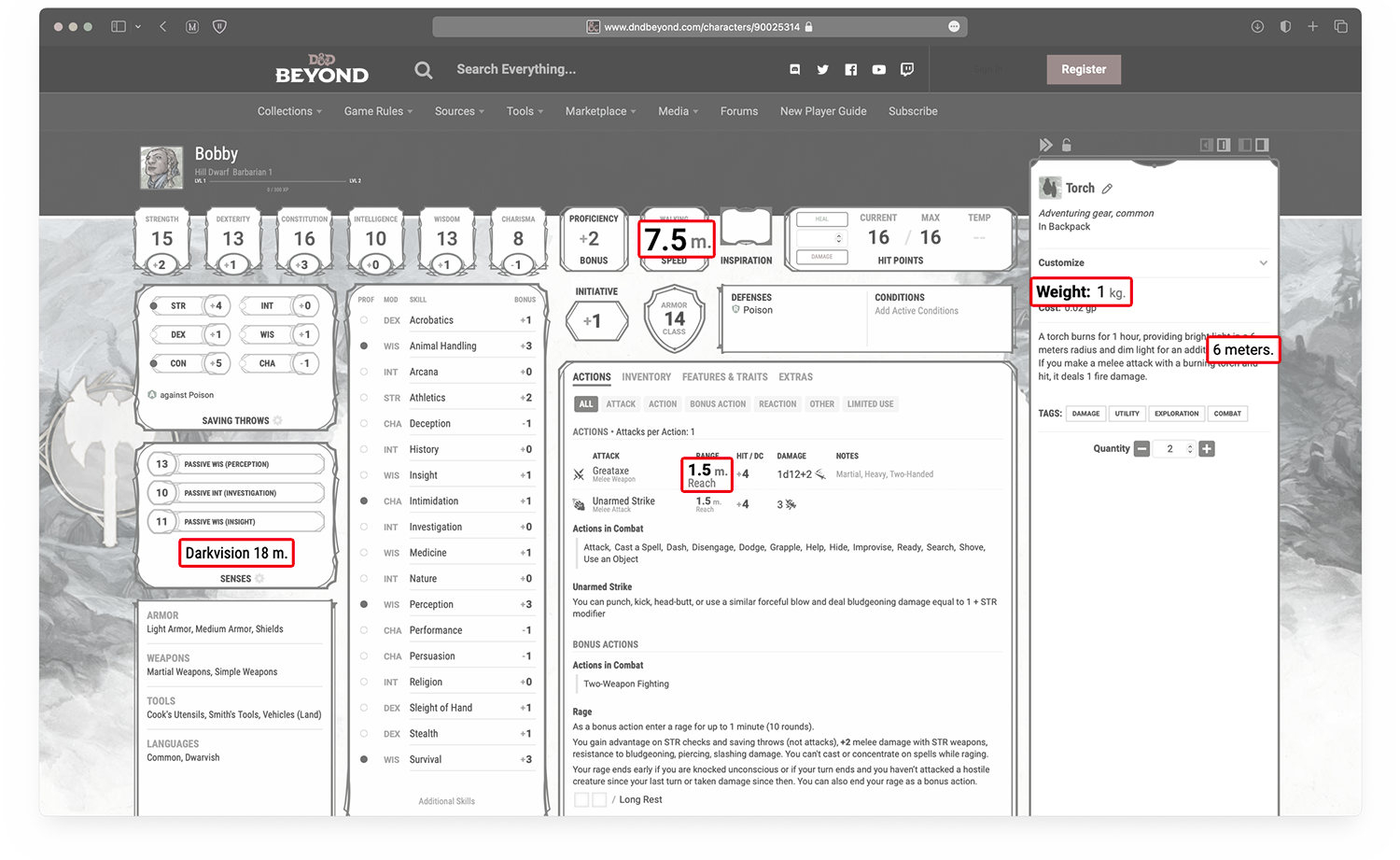 FAQ
How to use Metric Beyond?
Simply use the button corresponding to your browser at the top of the page. This will download and install the extension for you. For Safari, use the button with the apple.
Safari users, remember to enable the extension in the settings:
On iPhone/iPad: Open the Settings App > Scroll down and tap on Safari > Scroll down and tap on Extensions > Tap Metric Beyond > Enable Metric Beyond > Under Permission allow dndbeyond.com
On Mac: Open Safari > Click on Safari in the top left corner > Click on Settings > Click on Extensions > Tick the box next to Metric Beyond.
The first time you use the extension, it will ask for access to the D&D Beyond website, choose always allow. And you're done ! Now let the extension work its magic.
Does Metric Beyond work on the D&D Beyond app?
No. Metric Beyond is a web browser extension and thus only works on the supported browsers, i.e. Safari, Chrome and Firefox. It is not possible to modify the D&D Beyond app, only D&D Beyond themselves can do that.
Can you add support for my favorite browser?
Maybe! Send me an email at metricbeyond@gmail.com or add an issue to Metric Beyond's GitHub repository (if you know how to), and I'll see what I can do.
I found a bug/something that isn't converted, what can I do?
If you find a bug or something that isn't being converted then you can send me an email at metricbeyond@gmail.com or add an issue to the GitHub repository, with as much details as possible. A screenshot of the bug or missing conversion is a minimum.
Can I help?
Sure you can, sweetheart! Although I don't need help with the code, you can definitely help by sending feedback, suggestions of features, or even a little tip if you can.